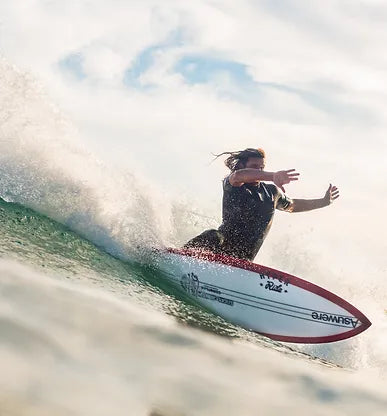 Ricardo Christie
Ricardo Christie hails from Mahia, a small community located on New Zealand's remote East Coast, a wild, isolated land of untouched beauty rich in empty reef, point and beach setups. Growing up in a close knit, spiritual community has given Ric an appreciation for people and his environment, wherever his journey takes him. Ric's addition to the World Surfing League in 20XX solidified his reputation as one of the surfing world's elite.
"We at Sol+Sea all share a deep love for our ocean and environment. We're inspired to create natural and effective products that we need for our outdoor pursuits, while creating the least amount of impact on oceans," says Ric. "We'll always be doing the best we can, for both skin and our environment. Being reef-friendly sunscreen and skincare is hugely important to us, as is partnering with environmental organisations that share our values."
Ric has always supported environmental issues, and mentors and supports the next generation of surfers through the Ricardo Christie academy. He was awarded a lifetime membership to the Gisborne BoardRiders, with whom he works closely to help develop the next generation, and he supports the Mahia Wave Warriors in their quest to promote surfing to counter mental health problems. Not only that, Ric is an international ambassador for SurfAid International, which supports Indonesian women and their families to receive basic healthcare.