Protect your face + body + our oceans with this natural, mineral-based, invisible zinc oxide sunscreen for every day use. Formulated with marine bio-actives, plant-based ingredients and innovative pharmaceuticals, Sol+Sea SPF30 sunscreen provides broad-spectrum protection from skin-damaging ultraviolet light - protecting, hydrating and nourishing your skin. Reef + marine safe, it's performance skin care for adventurers.
Concentrated + lightweight, repairs + restores, performs + protects.
NONE OF OUR PRODUCTS CONTAIN: oxybenzone + octocrylene + aluminium + octinoxate + gluten + mineral oil + PABA + retinyl palmitate + propylene glycol + parabens
More Info

A natural, mineral-based, invisible zinc oxide sunscreen that provides broad-spectrum protection from skin-damaging ultraviolet light, Sol+Sea Sunscreen SPF30+ not only helps to protect and restore your skin, but also the ocean environment in which we swim, surf, sail and play.

Zinc oxide is the main active ingredient: a mineral-based UVA and UVB absorber to provide long-lasting protection, while plant-derived ingredients have a natural sun protection factor and act to enhance zinc oxide's ability to absorb UV rays.

Sol+Sea Sunscreen SPF30+ also contains ingredients that act to repair, restore, soften and moisturise the skin through powerful antioxidants and high fatty acid content. Vitamin E is a key antioxidant that helps combat the oxidative free radicals responsible for skin damage and aging. Other ingredients such as hyaluronic acid and sea buckthorn berry oil act to restore hydration and elasticity to the skin, while sweet almond oil is rich in fatty acids to nourish the skin and balance moisture loss.

Seaweed extract contains phyto-actives, which repair the skin and reduce inflammation whilst containing a variety of vitamins and minerals to restore and soothe the skin. In addition, marine bio-actives derived from seaweed are rich in vitamins, minerals, amino acids and antioxidants. This functions to hydrate and soothe the skin, repairing the skin from exposure to the elements. Micronutrients derived from the seaweed also function to restore skin elasticity, brightening and energising the skin.

Our promise: All ingredients have been researched to ensure they'll protect you + our environment by being both marine and reef safe and using organic ingredients whenever possible.
Ingredients

Active Ingredient: Zinc Oxide (nano)

Key Ingredients: Aqua (NZ filtered water), Coco-Caprylate/Caprate, Caprylic/Capric Triglyceride, Prunus Amygdalus Dulcis (Sweet Almond) Oil, Glycerin, Sorbitan Olivate, Cera Alba (NZ Beeswax), Polyglyceryl-2 Dipolyhydroxystearate, Lecithin, Galactoarabinan, Polyglyceryl-3 Polyricinoleate, Polyhydroxystearic Acid, Glyceryl Caprylate, Isostearic Acid, Potassium Cetyl Phosphate, Sodium Chloride, Benzyl Alcohol, Caprylhydroxamic Acid, Tocopheryl Acetate (Vitamin E), Macrocystis Pyrifera (Kelp) Extract, Sodium Hyaluronate, Hippophae Rhamnoides (Seabuckthorn berry) Fruit Oil.
Directions

Apply liberally and often to all exposed areas 20 minutes before sun exposure. Reapply frequently (at least every 2 hours) and immediately after swimming, sweating, toweling or prolonged sun exposure.

Warning: Do not use on damaged or broken skin. For external use only + avoid contact with eyes. Discontinue use if signs of irritation or rash appear. Keep out of reach of children. If swallowed, get medical help or contact a poison information centre right away. Store below 25C.
View full details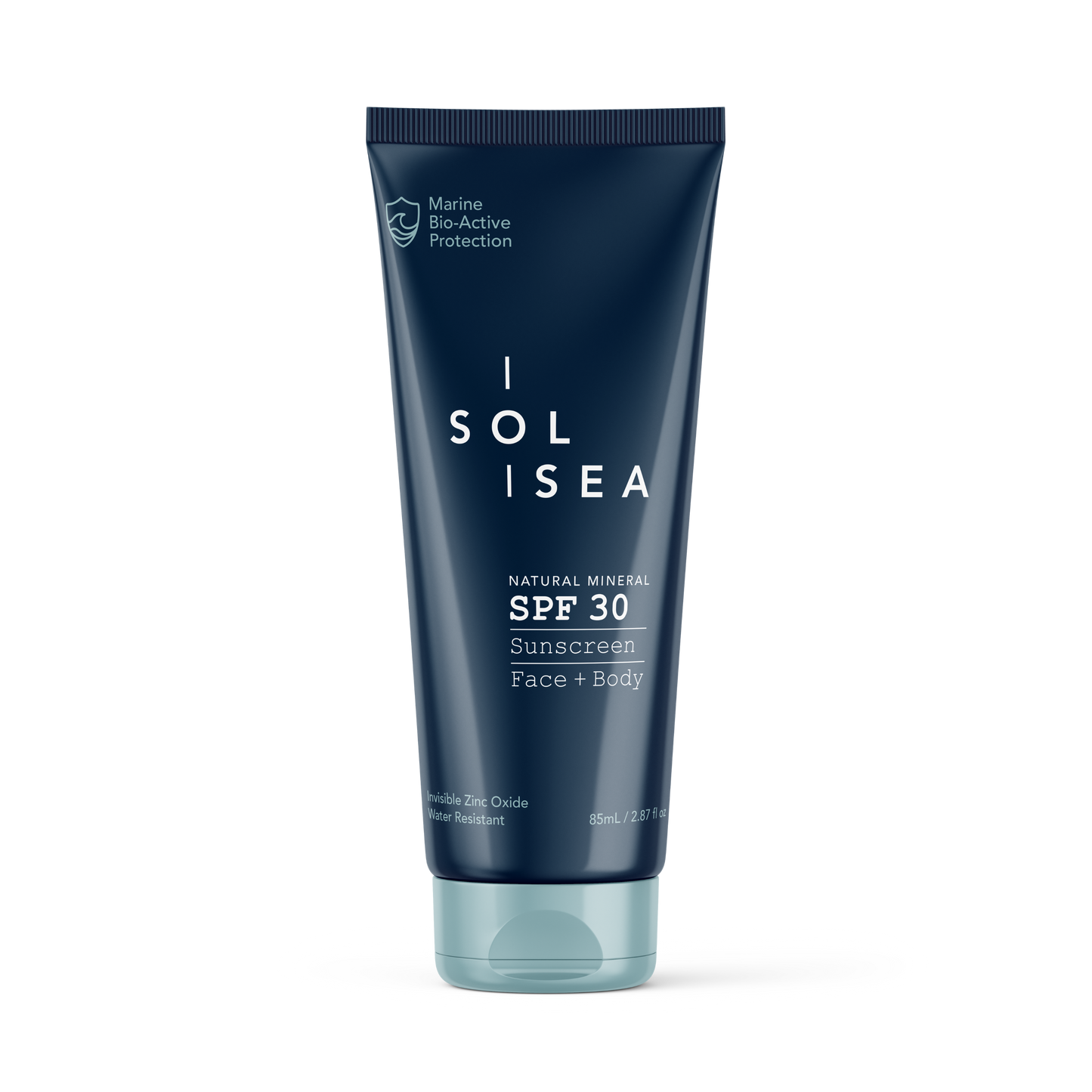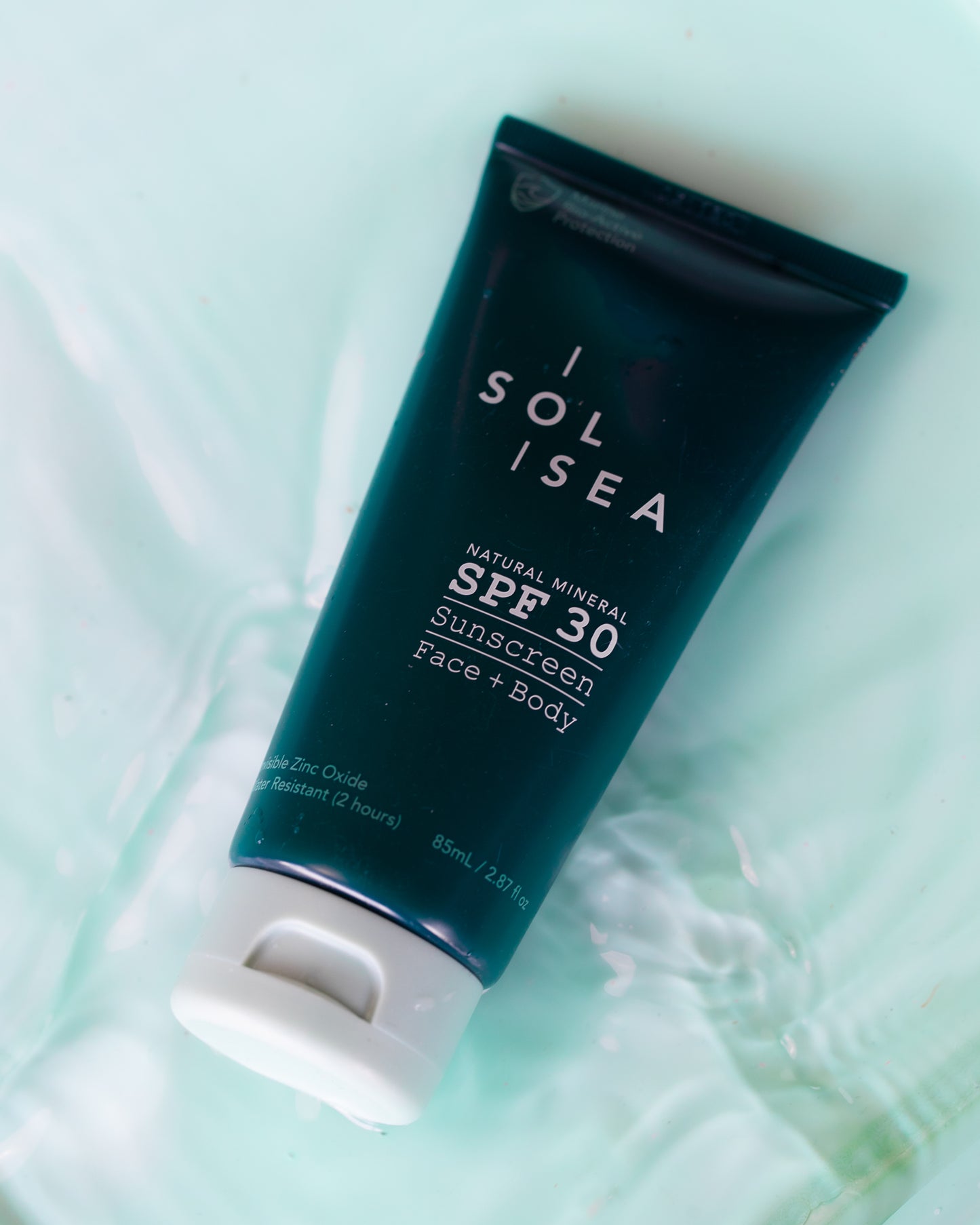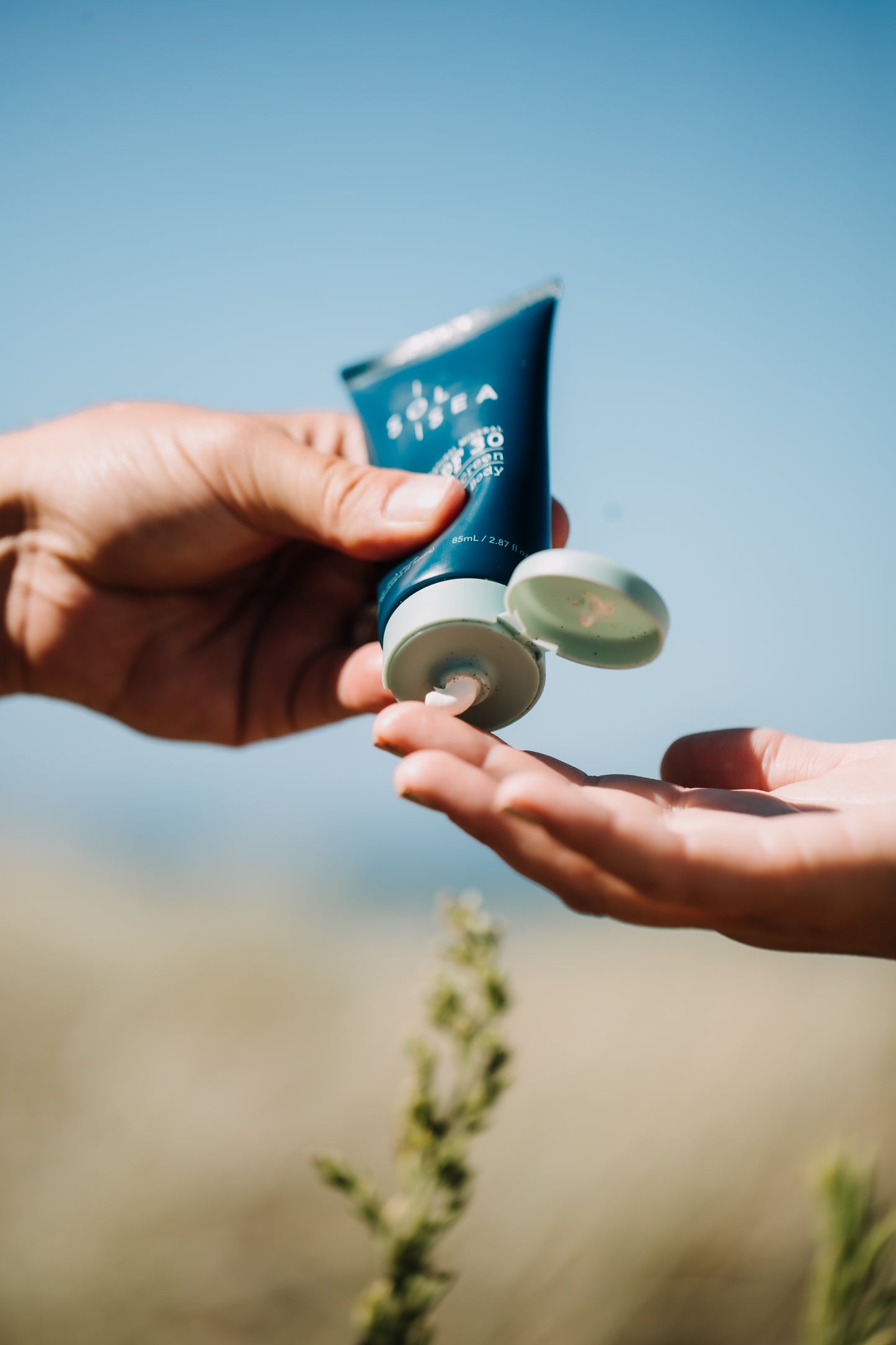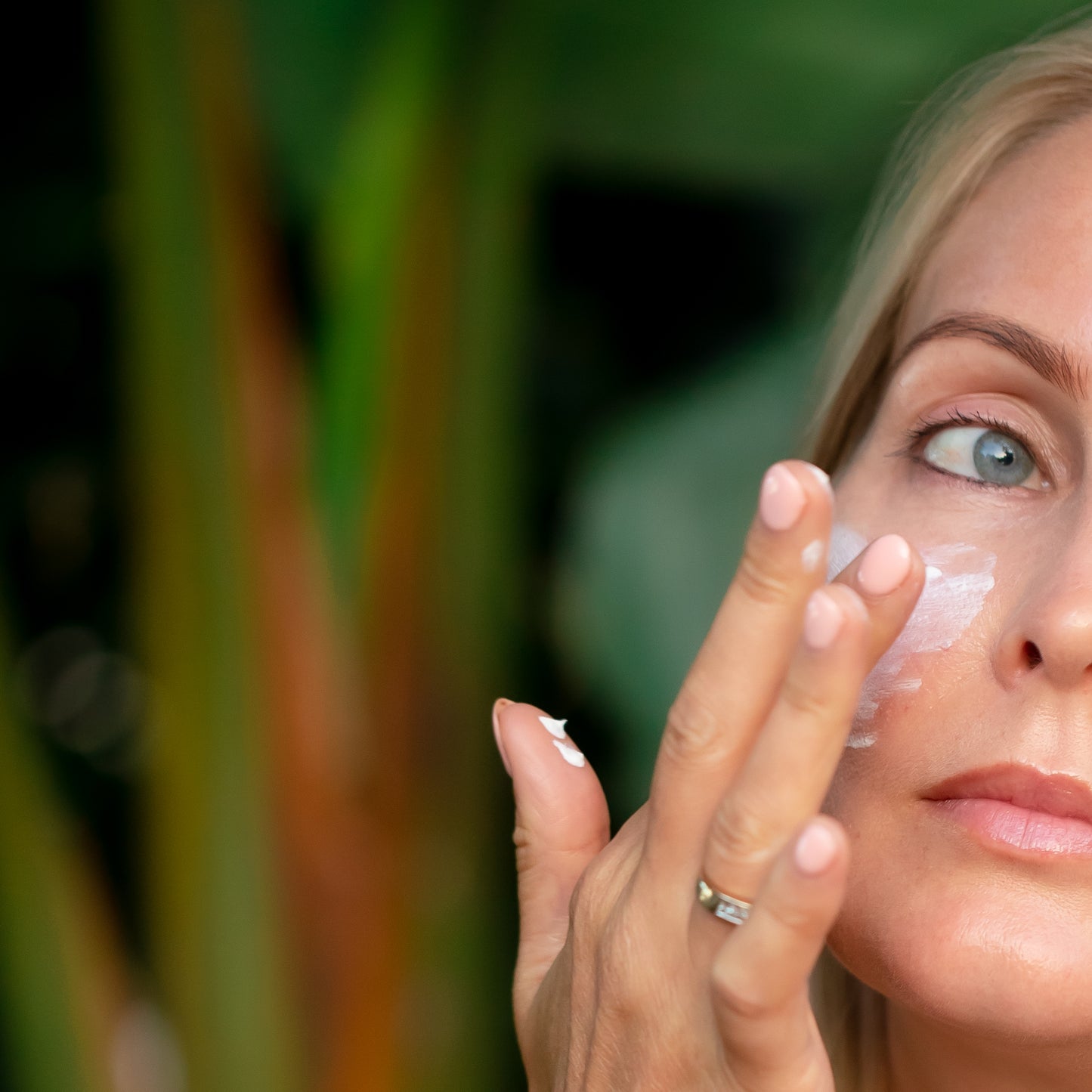 Mineral Sunscreen FAQs
How do your mineral & chemical UV filters work? Why don't you get sunburnt?

Too much ultra violet (UV) light exposure causes sunburn due to increased melanin production within your cells. High UV exposure causes the skin to burn and also accelerates the skins aging process. Mineral UV filters work by sitting on the surface of the skin to block UV rays from entering the skin, ultimately reflecting them away. Chemical UV filters are absorbed into the skin and protect the skin by converting UV rays into heat via a chemical reaction in which the heat is then evaporated of the skin. Both types of filters protect your skin from the harmful oxidative damage that UV rays do to your skin.
I see your SPF50 products have chemical UV filters, are they good for your skin and reef safe?

Our chemical, organic UV filters are Uvinul A Plus Granular and Uvinul T 150 which provide broad spectrum protection against UVA-I and UVB waves. These have been developed by BASF Chemists as part of their Care Creations range. Both have these products have been tested for both safety and efficacy on the human skin as well as on the environment providing an EcoSun Pass score of over 200 (refer to question… for a definition of EcoSun and how this is measured). This means that neither of these two products displayed effects of aquatic toxicity, endocrine disruption of marine organisms or bioaccumulation meaning they are both marine and reef safe. They are also very safe for application on the human skin as they both display highly effective UV absorption at very low concentrations and have very low skin penetration. This means these filters protect you topically by remaining on top of the skin as they are unable to penetrate into your body therefore unable to cause any type of endocrine or reproductive disruption to you compared to the findings of other commonly used UV filters.
Because your products are mineral based, do your products white cast?

We do use Zinc Oxide as a mineral based UV filter in our products. However, we use Zinc Clear XP which allows for very minimal white casting. This is because the zinc oxide is processed in combination with vegetable derived ingredients that act as both dispersants and emollients that allows the particles to be spread evenly over the skin, avoiding the white casting appearance associated with most other mineral based UV filters. ZincClear XP provides broad spectrum protection against both UVA and UVB filters and is VEGAN, ORGANIC, ECOCERT and COSMOS approved. In comparison, mineral sunscreen offers immediate protection unlike chemical filters which can take up to 30 minutes to be absorbed into the skin before working effectively.
Can I use these these products in the 6 destinations around the world that have banned some chemical UV filters? 

Yes! Our products do not contain any of the UV filters currently banned at certain countries in the world. These products have been banned because they have found to be toxic and harmful to the marine life and can cause destructive coral bleaching. This has led to the degradation of many coral reefs around the world and disrupting the environmental balance of the marine life in turn having an effect on the living organisms such as fish and algae. Use of these banned filters goes against our beliefs at Sol + Sea. The decline and destruction of the marine habitat in the past 20 years witnessed in destinations such as the Solomon Islands and Hawaii is what has encouraged us to create and promote the use of marine and reef safe skin care.